Driving in Japan: Motor Vehicle Roads
excellent road conditions in #japan make #jdmexports from @japanpartnerinc what they are now #skyline #r33 #gtr pic.twitter.com/E5cCQ98oZ9

— Japan Partner (@japanpartnerinc) October 10, 2015
There are four different types of accessible roads in Japan: Municipal Roads (84.1%), Prefectural roads (10.7%), National Highways (4.5%) and Urban Expressways (0.7%). The total length of Japanese roads is 1.2 million kilometers, 30 times longer than the Equator or 3 times longer than the distance between the Earth and the Moon. Over 90 % of Japanese roads are paved[1].
Picture # 1. Expressways in Japan
[1] There are several types of pavement which are utilized depending on climate conditions and location with features such as drainage, low-noise, water-retention, heat insulation. In majority of the roads in Japan, the existing pavements have all these factors.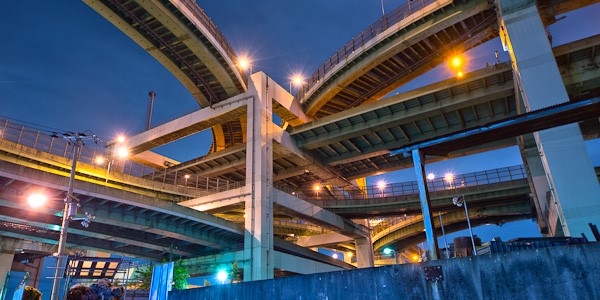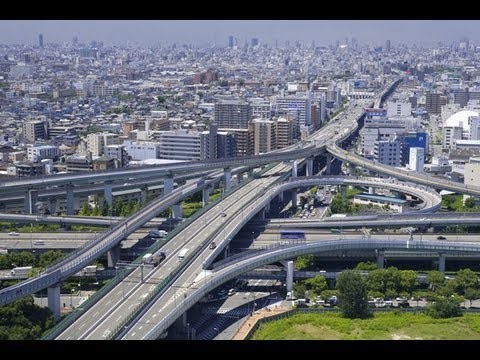 Every year, Japan suffers more or less a dozen natural disasters such as earthquakes, landslides, heavy rains, heavy snow, typhoons and others calamities. Given such extreme conditions, Japanese roads are designed and constructed in a very special way: very good in quality, environmentally friendly and with an efficient operation in mind when planning for the road network.
Road signs are very informative and written both in Japanese and English languages. The meaning of some traffic signs are even written on the road.
Lighting of the roads in Japan is very effective and well designed. It is quite rare to see road light posts with a burned bulb during night time.
Picture # 2. Traffic signs in Japan
Enforcement of traffic rules are mainly done by a number of different automated surveillance equipment (vehicle detectors, TV cameras, observation equipment and sensors) widely used throughout Japan.  It is very rare to see a policeman direct traffic unless constant violations are reported to police on specific parts of the Japanese roads.
1. National Highways
National highways are numbered from 1 to 5007. The shortest is National Route 174, with a length of 200 meters in Kobe; and the longest is National Route 4, with a total length of 742.9 kilometers, which connects the capital city of Tokyo with Aomori Prefecture in northern Japan.
Some parts of National Highways are similar to Expressways; although the speed limit is limited at 50-60 km per hour.  It allows speeding on some long straightway, traffic-light free parts of the National Highways.
Picture # 3. National Roads 1 and 41
The Japanese do not use salt and other chemicals to melt down ice on frozen roads during winter.  Since it rarely snows in the Kansai part of Japan, snow melt after about ten minutes.  Municipalities use sparkling water to melt down ice from the road in Niigata, Nagano and other prefectures where it snows a lot.
Picture #4 Sparkling water to melt snow on the roads
Road infrastructure is tightly organized and connected with an effective drainage system to collect, treat, reuse or discharge rainwater and melted snow from the roads.
2. Urban Expressways
Urban Expressways are a network of toll expressways with a flat-rate toll system regardless of distance traveled.   There are seven major urban expressways and the largest are Shuto Expressway in Tokyo and Hanshin Expressway in Osaka (the third largest city in Japan by population). Urban expressways are constructed as viaducts above national or local roads.  The purpose of constructing urban expressways were to lower traffic congestion in cities, connect remote areas with surrounding agglomerates and other cities, along with other types of roads including national expressways.
Picture # 5 Isewangan Expressway. Road sings
Picture #6 Route 23 under Isewangan Expressway
Most of the large Used Car Auction Houses are located very close to expressways, thus allowing easy pick-up and delivery of cars from the auctions.
Speed limit on Expressways are 120 km/h maximum and in a vast majority of cases expressways have two or multiple-lanes.
Expressways are secured with different types of fences depending on location:
Noise reduction panels while crossing residential parts of cities and towns
Rope and net fencing in mountainous areas barring wild animals in entering roads and expressways
Fencing on the bridges
Regular standard type of fencing on sparsely populated parts of Japan
Picture # 6. Noise reduction fence on route 302
3.Prefectural Roads
Prefectural roads account for over one-tenth of the total Japanese roads, and are usually connected with other prefectural roads, National Routes and Expressways.  Prefectural roads form a national road network and the speed limit is 50-60 km per hour.  Some prefectural roads start at railway stations, allowing further ease for commuters and alike.
Prefectural roads are free to access as the local government funds construction and maintenance; some financing as well comes from the National level.
Road markings in Japan are thoroughly given thought when being produced for content while being very informative at the same time!
Picture # 7 Road marking on the Japanese roads
4. Municipal roads
Municipal roads are the roads within the boundaries of municipalities. The narrowest roads are municipal roads; although farm, old local and forest roads that account for a minor percentage are even narrower.  In general, speed limit on municipal roads is 30-40 km per hour.
Slow moving vehicles account for the largest portion of road accidents in Japanese towns. This must be because of a large percentage of accidents are by elders aged 65 and older!
Photo #8 Irohozaka winding road, Tochigi Prefecture
Double parking of cars is not allowed in Japan, although in some parts of municipal roads the parking of a Kei Jidoosha with yellow number plate (vehicle with a small size and small engine of less than 1.0 L car) for a short stop is an allowable situation.
All legal entities, corporations/businesses and private entrepreneurs that serve customers or clientele are required to build parking lots good for at least 3-4 cars. Restaurants must have a bigger number of space in their lots. The largest parking ares in Japan are owned by Auction Houses.
Picture # 9 USS Nagoya Auction House parking.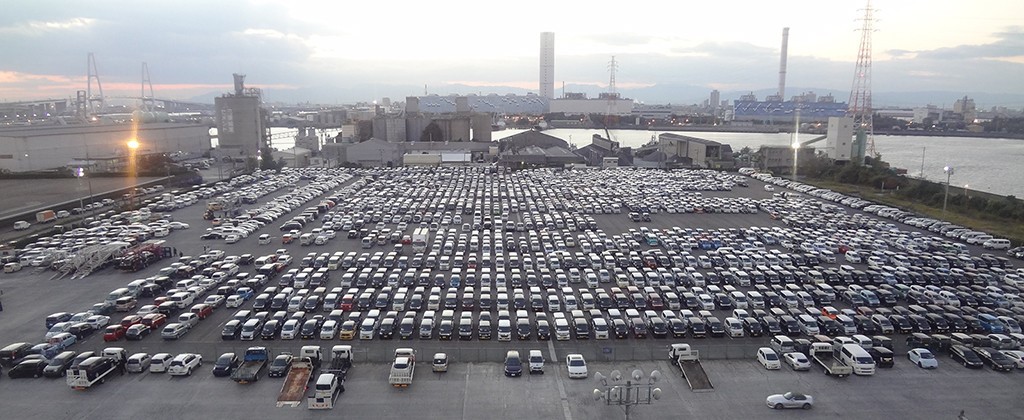 As it has been noted above, most municipal roads are very narrow compared to western standards.  At the same time, due to the natural scarcity of land in Japan, houses in towns are very close to the roads: in most cases, where a Japanese house ends, a sidewalk begins. Driving on such narrow roads is always a challenge, given such a limited space. Thus, side view convex mirrors placed at intersections are widely used in Japan to prevent car accidents and prevent potential injury of people walking on the streets. Japanese convex mirrors are mainly mounted on sharp corners, blind intersections and private garages.
Picture 10. Japanese side view convex mirrorr
It's a no-brainer, that Driving in Japan is one of the safest places to have a car on the road in the world!
For more information on how Japan Partner takes advantage of the country's excellent road conditions with the sale and export of used vehicles from Japan, please follow this link: http://www.japan-partner.com/