Buying a car from the Japanese Car Auctions? The auction sheet: all you need to know!
The Auction Sheet of a vehicle to be sold at the Japanese Auction Houses is VERY IMPORTANT and the CRUCIAL POINT in making a decision on purchasing a pre-owned/used vehicle from Japan.  Each auction house has its own Auction Sheet, however almost all types of auction sheets contain enough information to make the right decision on purchasing a vehicle.
All auction houses in Japan can be divided into three major auction houses:
USS Auction Houses (Used Car System Solution)
i-Auc Auction Houses (JU, TAA, CAA, IAA, LAA, SAA, KCAA, Hanaten, ARAI)
Others (SMAP Nuysatsu, Honda, Bayauc, BCN, etc.)
Auction Sheets of Honda, Bayauc and BCN Auction Houses are not available unless you have unique access (can be acquired from an official Japanese Car Dealer) which requires a user code and password. Below is a sample of a USS auction sheet.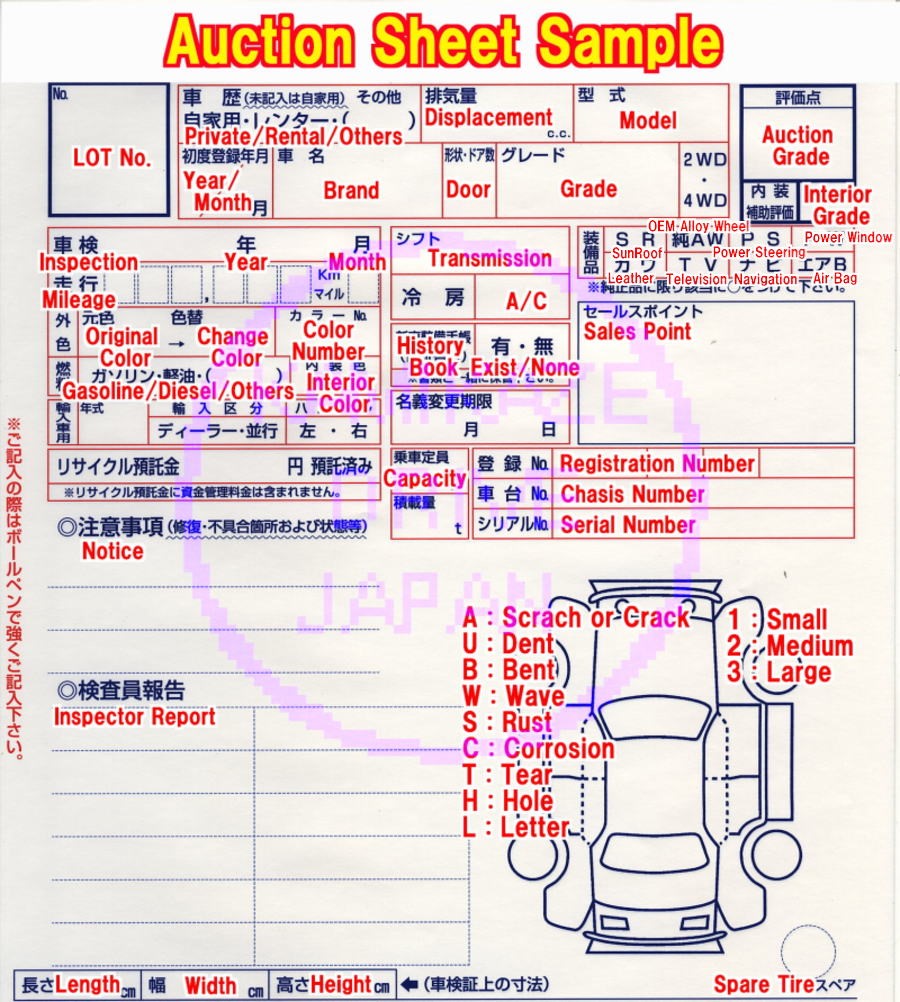 Sales point: This contain 'plus' information that may potentially attract more buyers. Usually the following points contained in Sales Points are: one owner, auction debut and car options (leather seats, sunroof, push-start, allow wheels, etc).
Notice:  This part may contain additional positive information, as well as negative information. For example, among positives are HDD Navigation, seat heaters, panoramic wide sunroof, spare keys and others.  In some cases, inspectors may put negative information or problems such as engine noise and transmission problems. Mileage change is also reported in this part.
Inspector report: The information contained in this part is the most important than any other parts of the auction sheet. This part contains description of interior and exterior conditions, problems, engine function, transmission and others.  Scratches, dents, rust, corrosion, deformation, repairs and replacements of parts, oil drips in engine room and leakages are also reported in this part of the auction sheet.
Mileage: Mileage is written very accurately until the last kilometer and is equal to the number seen from the odometer. An appropriate measurement is circled to indicate whether mileage is in kilometers or miles (for the cars made purely for the American market). There is a box on the right side of the mileage reading; and if you see a dollar ($) or star (*) mark, it means that mileage  has been changed. If a Vehicle Inspector at the Auction House finds a mismatch in odometer mileage and the information from the vehicle's Car Registration Certificate (renewable and issued for two years), he writes an appropriate comment in the Notice part of the Auction sheet.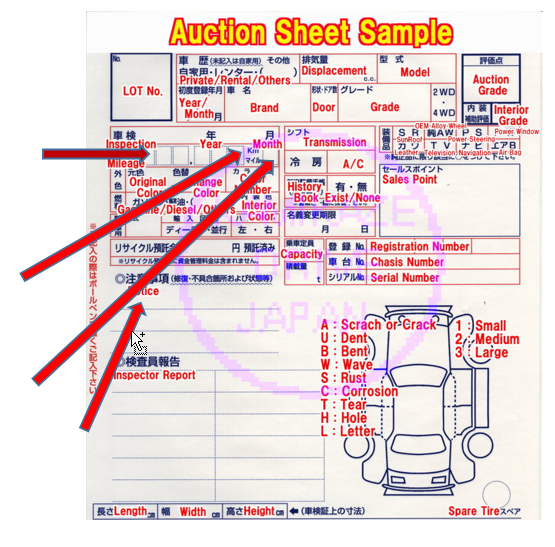 VIN (Vehicle Identification Number) or Chassis Number
Age of the Japanese cars is counted from its first registration in Japan; so manufacture date written on the Auction sheet doesn't always mean the actual date of manufacture.
Buyers whose countries put age restrictions on imported cars are highly recommended to check actual manufacture date (year and month) of the car prior to purchase. You can check manufacture date of Japanese cars at the Japan-Partner Inc. web-site.
In a vast majority of cases, such mismatches mainly happen with western-made cars and cars with left-hand drive steering.  Mismatch between actual manufacture date and Auction Sheet manufacture  date of the Japanese cars is also a possible cause.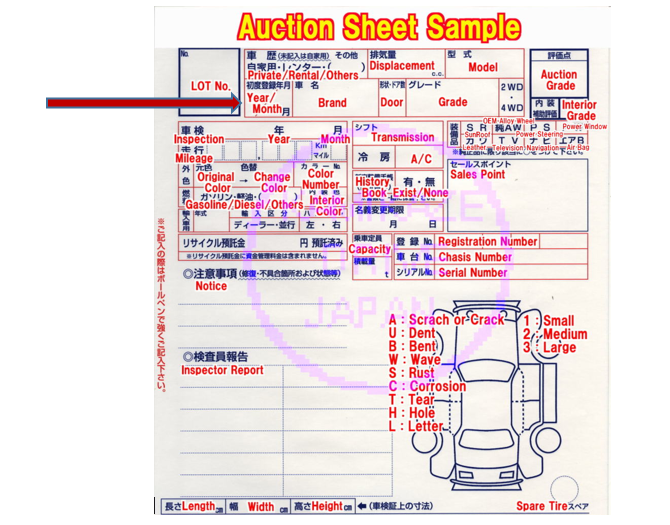 There are numerous online websites offering VIN decoders and online VIN check services. Some of them are free and some others require payments.
You can always ask a Japanese car Dealer to check the actual manufacture date for any single car that appears daily on the Japanese Car Auctions.