When purchasing used cars from Japan, what is FOB price added on the top of the sales price?
Most Japanese companies exporting cars to different countries add FOB to the final price of the car to be shipped.  For the Japanese companies exporting cars, FOB means "Free on Board" and includes all expenditures of the Japanese car dealer.
In general,  an FOB price for the vehicle to be shipped from Japan includes the following:
Car successful bid price at the auction

Prices at Japanese Car Auctions are unpredictable. Even if three-month statistics provide data for average price of the specific vehicle actually successful (winning bid) , prices may differ depending on demand, seasonality and other factors. The successful car bid price is the last highest bid made by a Japanese Car Dealer. It may be lower or higher than the "wish price" of a customer.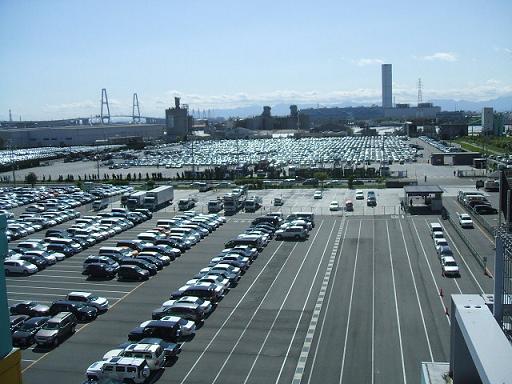 One of many parking lots at USS Nagoya
2. The 8 % sales tax in Japan
The Japanese Government imposes an 8% sales tax which is calculated as a percentage of the final price of any transaction/purchase made by the final consumer. In case of a car purchase, 8% of the successfully bid amount is then added to the FOB price
3. Auction house fees (depends on Auction House)
Every single Auction House in Japan charges an auction fee for sales and purchase of the car to be auctioned on that specific Auction house. Payment amount varies from one Auction House to another. Japanese Car Dealers who acts as an agent for its customers pays the fee and includes it in the FOB price.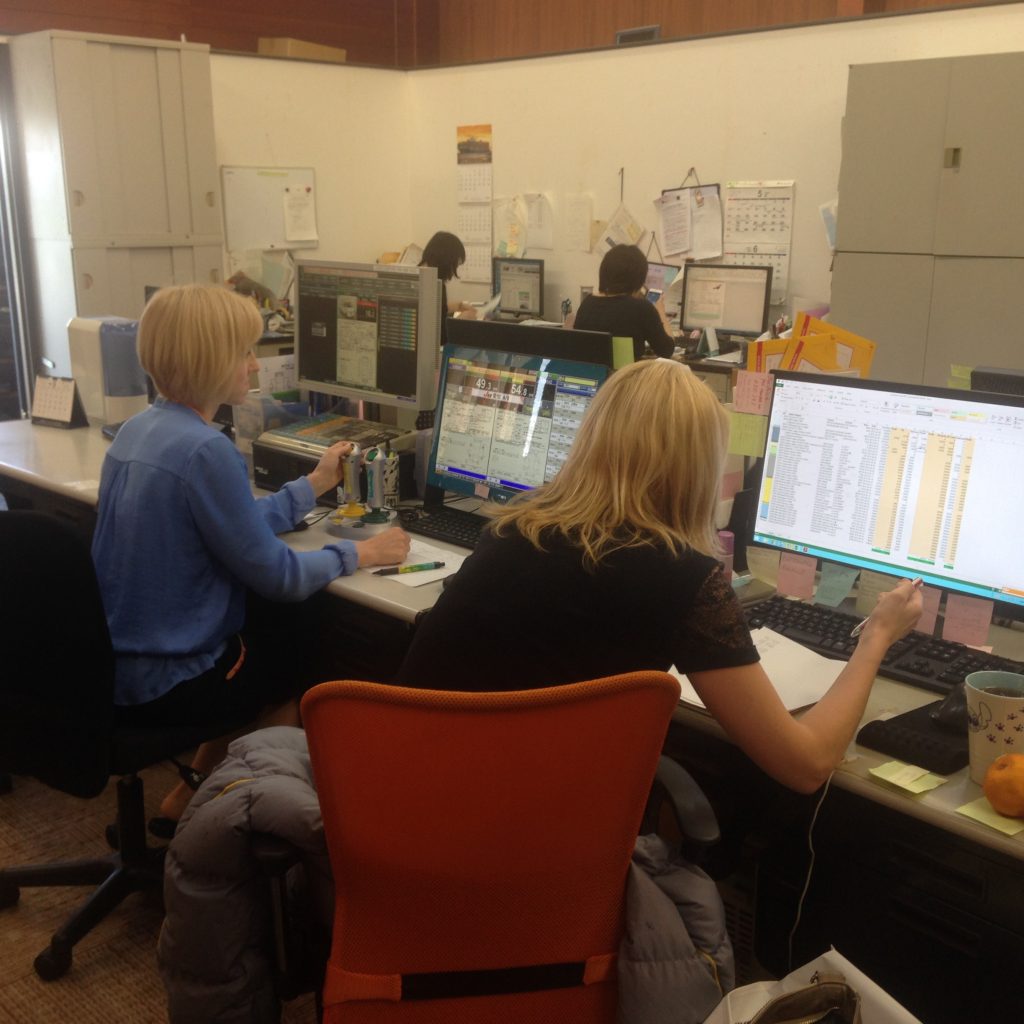 Japan Partner's Multi-lingual Purchasing Team in action
4. Recycle Fee
This is in accordance to the Japanese Law on Reclamation of Reusable Resources from End of Life Automobiles, in preventing unlawful dumping and improper disposal of end-of-life vehicles. Fee amount depends on size, age and other factors of a vehicle; and it is bigger for the western-made vehicles.
5. Delivery cost from the Auction House to dealer's office or parking lot
There are over 100 Auction houses throughout Japan. The distance between two remote Auction Houses (JU Sapporo and JU Okinawa) is over 3000 kilometers and delivery of vehicles from Auction Houses may vary from few thousand Yen to tens of thousands of Yen. Japanese Car Dealers try to buy vehicles from the nearest Auction Houses to make the final price for purchases a bit cheaper.
Deregistration of the car and issuance of Export Certificate for each vehicle takes a lot of time rather than money. A person should go to the company registration's local district road police headquarters to fill out several documents for several hours to obtain needed documents.  PLEASE NOTE, that Individuals cannot have an export certificate issued, as only companies which have an export license are entitled for issuance of an export certificate.
Vanning and loading into container

Price for vanning and loading into container depend on availability of infrastructure, machinery, equipment and capability of owning a container terminal. While some Japanese Car Dealers do it by themselves, some other Dealers outsource this operation. In most of the cases it is safer, faster and cheaper if everything is done by the Dealer itself.
Japan-Partner Inc. mode of loading cars into container. Firm 90*90 wood frame, strengthened with synthetic ropes and winches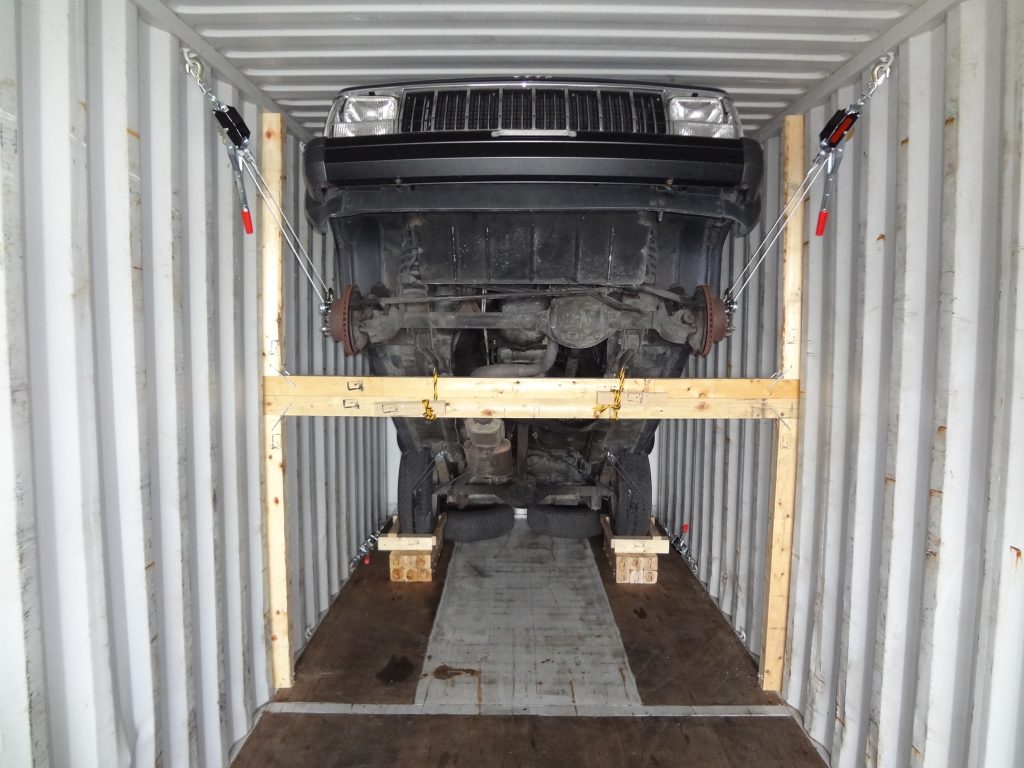 Inside look on container vanning
Cost of delivery to a port of shipment

Again, if the dealer owns its own carrier trucks for transport, then cost of delivery to a port of shipment is cheaper. Sometimes outsourcing can be cheaper than doing it on your own when the scale of economies kick in
Load onto the vessel

Cost of load onto the vessel is almost standard around all ports in Japan. Lead time is crucial where companies that have a large volume are capable of more flexible arrangements with forwarders and customs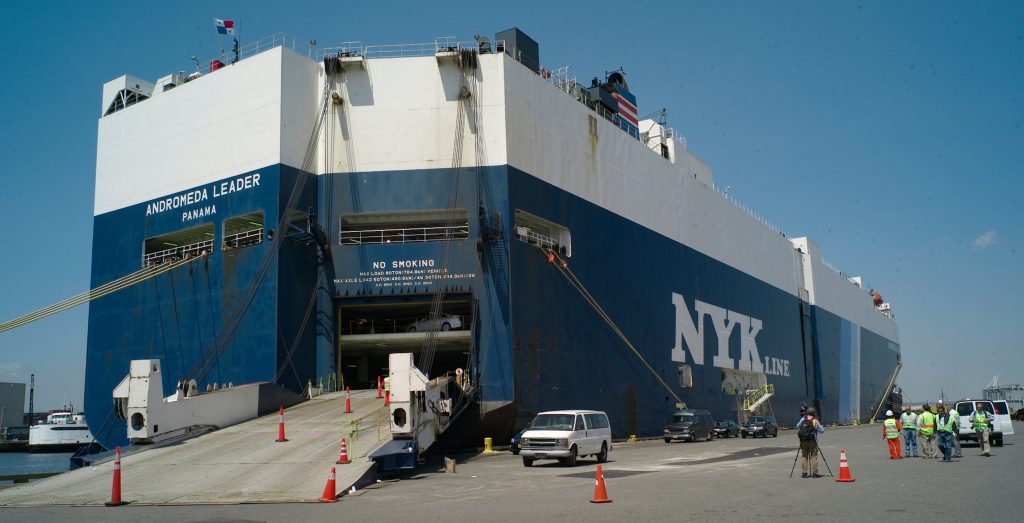 Vehicles shipped by RORO use vessels like these
Japanese Car Dealer's commission

Japanese Car Dealer's commission/profit highly depends on frequency of the shipment to the specific customer and number of vehicles to be shipped.
Sea/Ocean Freight cost and marine insurance (It is not firm who bears these payments. Large companies may pay them and include it in the final price of the car)

Sea/Ocean Freight costs and marine insurance are totally dependent on distances covered and shipping line prices. These may vary from one line to another.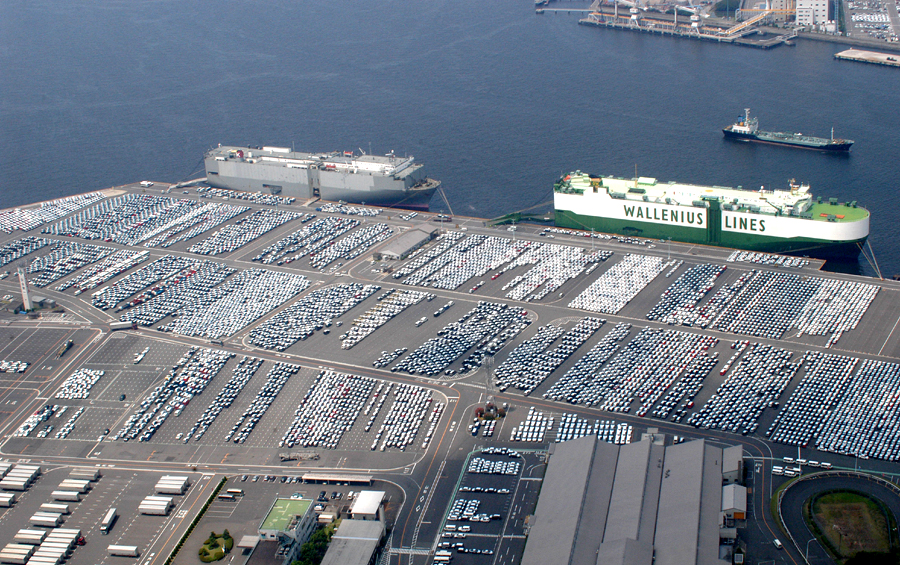 Nagoya Port, RORO shipment vessels
Final cost for the car shipped to other countries may include (note that Japanese Car Dealers do not bear these costs):
Unloading of container/car from the vessel
Storage in container/customs terminal if unloading is delayed due to failure in custom clearance
Payment of custom clearance fees, import duties and payments
Transportation from port of unloading to the final destination
Registration of the newly arrived vehicle in the customer's country